Newborn and Family Sessions
The newborn session is up to 3-4 hours in the comfort of your own home, during the first two weeks of your baby's arrival.  This period of time is when newborns are most sleepy and still curled up into that charming foetal position, which makes for those really delightful newborn shots.
A large variety of props and wardrobe changes are available to your newborn during your session, along with any family sentimental memorabilia or career props that you may wish to include as new parents.
As new parents you are also invited to join in the session, which can also include any siblings or family members.
The best time to secure your newborn session is while you're still wonderfully pregnant, ideally during your second or third trimester. A session date will be suggested to you, which will be completely flexible, as your baby will have its own ideas on the arrival date.
"After 1-2 weeks from your newborns session date, edited images will be presented to you on a private viewing gallery, via my website."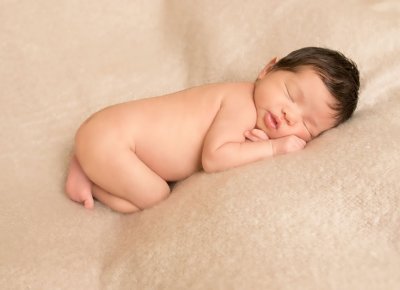 If you are interested in a newborn and family session or have an enquiry please contact me by phone on 07775 916824 or email me via my contact me page.